About Operant-Tech
Operant-Tech was founded and developed by Doug Johnson.
---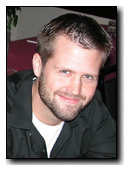 Doug Johnson is the founder of Operant-Tech Consulting and an international consultant. He is an expert in instructional design, training design/development, computer-based instruction, performance management, systems analysis, fluency training, incentives, feedback, and employee motivation. He has been studying and applying behavior analysis since 1997 and organizational behavior management since 2000.
He also works as an Assistant Professor at Western Michigan University, where he has taught university courses on industrial/organizational psychology, behavioral training/teaching strategies, statistics, applied behavior analysis, and introductory psychology. He has won multiple awards while at WMU, including the all-university award for excellence in teaching effectiveness.
Within an applied setting, he has worked on a number of projects requiring the design of computer-based training, project management, team supervision, graphic design, website design, and development of managerial training materials.
Doug holds a BS in psychology from Central Michigan University. He also holds a MA in industrial/organizational psychology and a Ph.D. in applied behavior analysis from Western Michigan University.